Since the introduction of the SA Terroir Wine Awards in 2006 it has been proven clearly that the Cape winelands are not only blessed with top quality wines from the leading grape cultivars, but also from several lesser-known cultivars. After all, South Africa is one of the world's best wine production countries, which grows a variety of quality cultivars.
Only wines certified by the South African Wine & Spirit Board as wine of origin from a specific ward, a district not divided into more than one ward, an estate-produced wine and single-vineyard wine may participate in the Terroir competition.
In the past year, the Board's demarcation committee identified three more wards in the Cape winelands as unique wine terrains. They are Piket-Bo-Berg in the Swartland, Groenfontein in Calitzdorp and Kweekvallei in Prince Albert. The country's total wine areas now include altogether 96 demarcated wards.
Entries for the competition this year close on 15 June and late entries on 24 June, the latter at a higher fee. The delivery of samples for judging is on 23 - 24 June and judging takes place on 12 - 15 July, for the presentation early in August.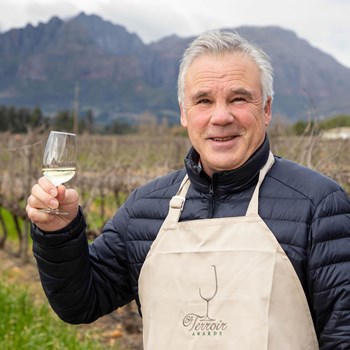 According to the Cape Wine Master and chairperson of the Terroir Awards' judging panel, Jeff Grier, the terroir-concept is vitally important on the international wine scene. "It helps to reveal the unique character traits which a specific soil and climate combination yields. To ensure that these influences on the wine grape are a priority, nature's role must be emphasised thanks to the soil and climate's huge contribution; this being part of the terroir notion. Terroir has increasingly become an important term in the experienced and passionate wine lover's vocabulary.
"All the wines entered for the SA Terroir Wine Awards derive from specific terrains (terroirs) and the winning wines clearly show which terroir areas excel with which cultivars. Over the years it has come to the fore that certain varieties perform better in specific wine terrains," said Grier.
This confirms that many of our cultivars in different terrains produce top quality end-products as the national winners virtually almost always originate from different areas.
The terroir-specific wines will always be an integral part of the Cape winelands' culture thanks to the wine of origin rules applied. Lesser-known cultivars already started standing out as national winners which scored high judging points with the second presentation of the SA Terroir Wine Awards in 2007.
These cultivars were Petit Verdot, Sémillon and Viognier – respectively from Franschhoek, Durbanville and Goudini. Since then, various other lesser-known cultivars produced national winners. Cabernet Franc, Malbec, Grenache, Tannat, Roussanne, Petit Sirah, Sangiovese, Tempranillo, Tinta Roriz and Touriga National excelled from specific terrains almost across the Cape winelands, namely from Hermanus, Wellington, Piekenierskloof, Robertson, Stellenbosch, Paarl, Durbanville, Darling and Calitzdorp.
ENDS
Enquiries to Elsabé Ferreira by tel 021 863 1599 / admin@terroirwineawards.co.za
Stay in touch via social media: 
Facebook https://www.facebook.com/saterroir
Twitter https://twitter.com/saterroir
https://www.instagram.com/saterroirawards/
#SATerroirAwards 
#SATerroir
www.terroirwineawards.co.za